Published by
Ashish Dwivedi
on
Faster global search in suiteCRM
This is well known that good and fast searching can improve usability, improve engagement with CRM, and of course attraction. So first of all global search is the most important thing in CRM because if we talk about CRM then there are a lot of things, a lot of functions, reports, modules, records etc, many things for the new user it is too hard to find exact thing in an easy manner.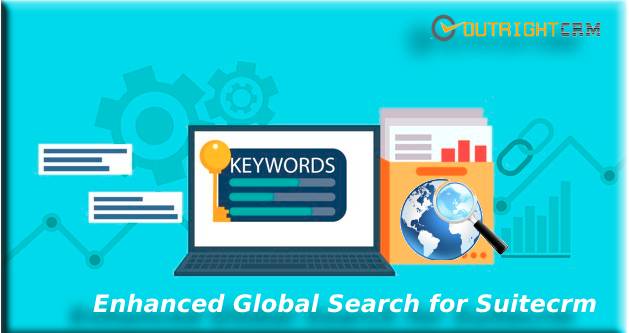 At this point, global search helps a lot and it searches records in various modules and returns a result to end user.
Outright Systems has extended the current functionality of global search in suitecrm and developed an extension (i.e Faster Global Search for SuiteCRM) to improve current functionality and added some exciting features which makes this product awesome.
Faster Global Search for SuiteCRM enables a lot of extra features in search functionality. Some of these includes,
User has the choice to select your search module that where need to search.
It depends on the user that what type of searching required.
This product provides the ability to choose exact and anywhere search feature.
Search within all fields of selected modules.
Instant Results with Ajax.
So searches are key for business and most important in thing in CRM. It should be instant and efficient. Default search feature comes with SuiteCRM is quite slow and time taking. As a competitive nature of the business, your searches must be Super Fast with an ability to search with exact or anywhere mode.
For more details, videos, and documentation for this add-on, please click here.