Published by
Ashish Dwivedi
on
SugarCRM Email To Lead or Any Module
SugarCRM Email To Lead or Email2Lead or any module like Contact, Cases or any custom module.It works for SuiteCRM as well.
This intelligent automated plugin captures your emails from your incoming mailboxes and converts that data into actionable data that can help you increase customer contact, create profitable customer relationships and timely responses to Cases.  Your staff will appreciate the increased effectiveness this automation gives them. This functionality is available in SugarCRM Professional, Ultimate, Enterprise versions.
Welcome to the world of email automation. An effective CRM program should contain all of the information necessary to run your business.  Email is part of your business and needs to be fully integrated into the CRM. Valuable data comes into your business from emails and this data is the source of Leads, Contacts, Opportunities, Cases, etc. This powerful module will automate the creation of data that will build your database, empower your sales and service people and eliminate lost opportunities.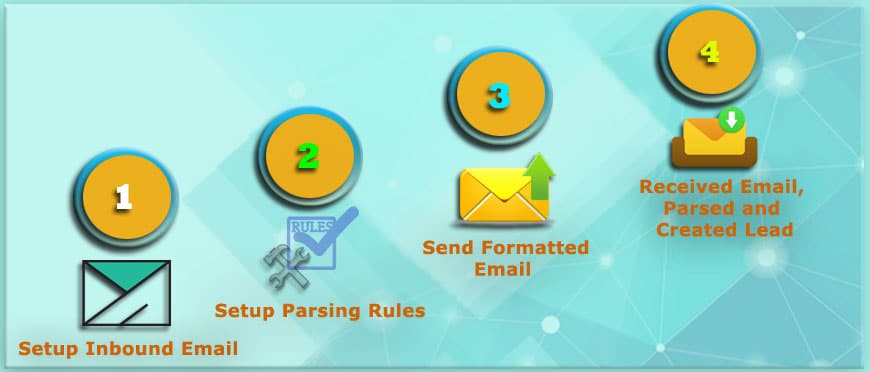 Here a few situations for your email automation
1) Email arrives with identifiable elements.  The system recognizes the preformatted elements and parses the data into corresponding mapped fields into target modules such as Leads or Contacts.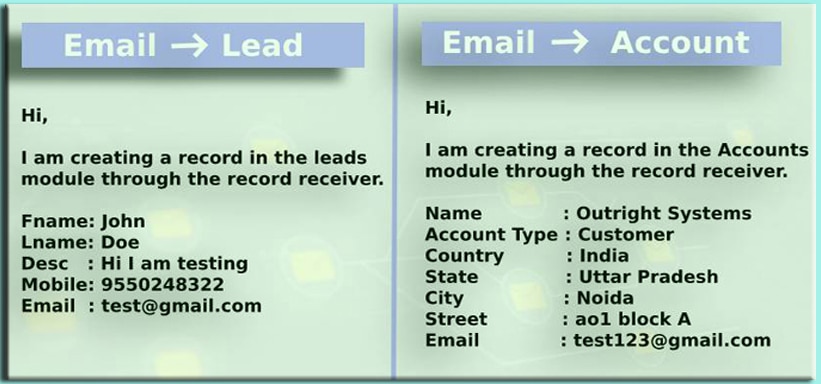 2) If an Sugarcrm Inbound Email is free form or with minimal format, then the entire email is imported to a Lead or Case module depending on the system configuration.
3) Any Web forms receiver email can also be mapped
Without this automated add on, a manual interaction needs to be made on each email, copy all information manually and put them into Leads. If your company receives thousands of daily emails this task can become nearly impossible. Doing it manually will result in many data input errors and loss of critical data.
Here are a few simple steps using this tool, a simple approach to automate the whole process.
1)  Setup your inbound Email inside SugarCRM admin -> Inbound Emails area.
2) Configure your Target module, Parsing formats and setup rules
3) Keep them "UnAssigned" or assign to someone by default?
It's always user choice, keeping them unassigned and then assign to someone later.
Assign a default user for all from this setup.
4) Setup notification recipients
Upon creation new records, choose whom to notify, it can be a SugarCRM user or any custom email address. Here you need to avoid any email address which is already set up under email automation.
Simply this is Email-to-anything approach, where your thousands of emails going to be in your SugarCRM with configured rules. As an automation approach, a lot of manual work eliminated with quality parsing and preformatted rules. 

Addiontionly, There are no limits, you can set up as many inbound emails as per your choice like support@,sales@,issues@.

Happy Automation!
For more details, videos, and documentation for this add-on, please click here..